Need a new roof on your home? How about a new roof on your garage? At Home Roofing Solutions, we can do both! That was just such the case when we traveled to Corinth, Maine for a roof inspection on a garage. The customer was looking for a professional roof company to install a new roof on their detached garage. Following a free 20 point roof inspection, our Roofing Advisor recommended IKO Cambridge Dual Brown Asphalt Shingles for the new garage roof.
Here is a great series of photos showing the before and after experience of this roof installation. You can really see the wear and damage that was present on the ridge area of the garage roof. If this garage roof had gone much longer without a roof repair or a new roof installation, significant problems would have cropped up.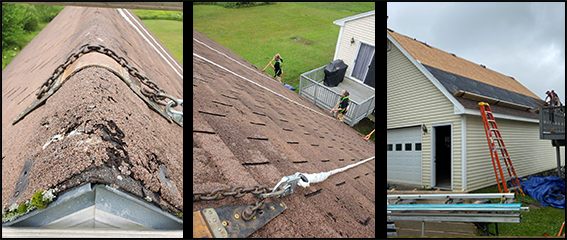 Once our roofing team at Home Roofing Solutions had completed this professional install, the customer was extremely happy with the work that was done. Although these customers were hesitant initially about the price for this new roof, they were blown away by the quality of the finished product, and the professionalism of our team. We are this customer picked Home Roofing Solutions for their new garage roof in Corinth, Maine!
So maybe you think the roof over your home is fine, but how about the roof over your garage? We encourage you to meet with one of our Roofing Advisors concerning your roofing needs for both your home and your garage! With our great payment solutions and roof financing, you could do both! Schedule a FREE roofing inspection today with Home Roofing Solutions!