One of the things we love most at Home Roofing Solutions is seeing a roofing project go from the first inspection to a brand new, finished roof! We've been inspecting roofs all over Eastern and Central Maine, providing local customers with roofing solutions of all kinds. We had the pleasure recently to meet with this customer in Dedham, just a few miles outside of the Bangor, Maine area. The project involved a new roof from the ground up, and utilized Premium Asphalt Shingles from Certainteed.
Check out the before and after photos below for a look into our process. From new roof trusses to the installation of Certainteed Premium Landmark Asphalt Shingles, our roofing crew did an amazing job on this project!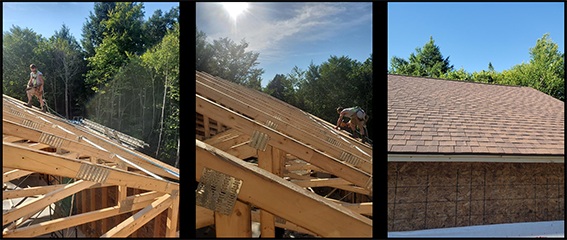 When we first put together the plans for this roofing project, our team estimated 5-7 days for work to be completed on this roof. Well, get this. Our professionally trained roofing crew got the job done in 2.5 days - and the customer was blown away! Plus - like all of our new roof projects at Home Roofing Solutions, this roof is covered by our 10 year Solution Guarantee!
We loved helping this customer with their new roof in Dedham, Maine. If you'd like to meet with one of our Roofing Advisors concerning your roofing needs, schedule a FREE roofing inspection today with Home Roofing Solutions!