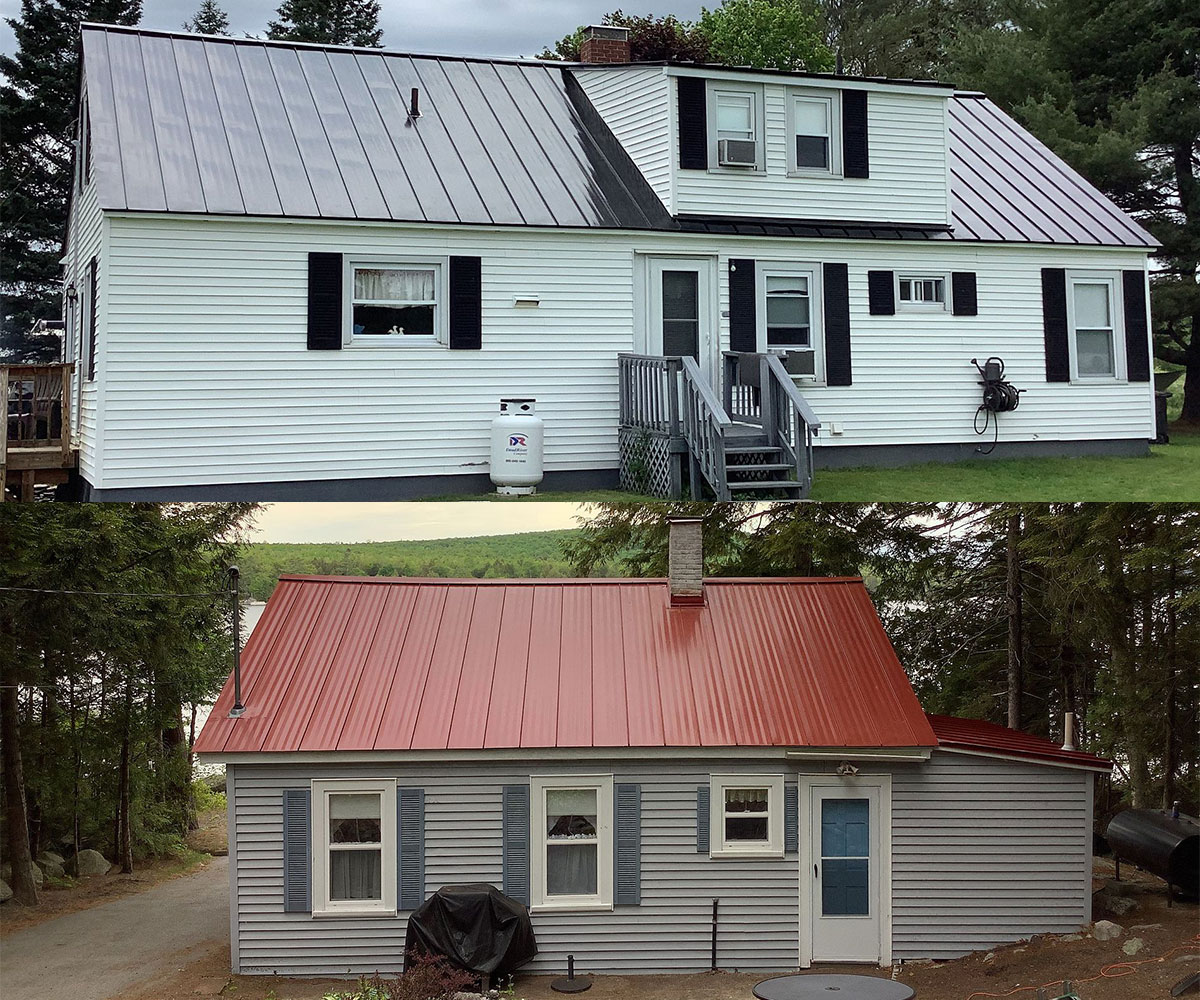 It seems like every day you're driving throughout Maine and BAM! You notice a completely new metal roof on a home, garage, or camp.
There's no doubt that homeowners in Maine are seeing the benefits of installing a new metal roof over their home. If you've considered the benefits of asphalt shingle roofing material and want to look into a metal roofing system, here are some things you should know.
There are a few popular types of metal roofing products that Maine homeowners are after. Here at Home Roofing Solutions, we recommend either Standing Seam or Screw Down Metal Roofing. But which one is best for your new roof? Here we will break down the benefits and challenges that come with each metal roofing type, in hopes that you'll have a better understanding of which metal roof system is best for your home.
What Is a Standing Seam Metal Roof?
Standing Seam metal roof systems are identified by their inter-locking panels with concealed fasteners offering a smooth, modern look to your home. The width of each panel is determined by the size of your roof and the aesthetic appeal you're going for. Standing Seam metal roofs can be installed over your home, garage, camp, or even as an accent roof for your porch.
Benefits of Standing Seam Metal Roofing:
No Exposed Fasteners: meaning the fasteners that hold your roof in place are not exposed to precipitation, UV rays or wind.
Energy Efficient: an optimum thermal performance, keeping cooling costs reduced as the panels reflect radiant heat from the sun as opposed to absorbing it.
Durability: won't crack, peel, warp or leak compared to other roofing materials. Standing Seam panels are free to expand or contract in hot and cold weather catering to its long lifespan, and require little maintenance.
Weather Protection: rain, snow, sleet, freezing rain and wind are no match for Standing Seam metal roofing.
Attractive Colors: increase your curb appeal by selecting from a variety of beautiful colors to add a distinction to your home.
Challenges of Standing Seam Metal Roofing:
The Price:

when it comes to installing a new metal roof, Standing Seam is definitely an investment.

The Need For An Expert:

due to its complexity, installing a new Standing Seam metal roof is hardly a weekend DIY project. The process requires an expertly trained team of installers like our crew at Home Roofing Solutions to make sure your roof system is installed correctly.
What Is Screw Down Metal Roofing:
Screw Down metal roofing consists of metal panels that are "screwed down" directly through the metal surface and into your roof frame. Unlike Standing Seam metal roofs, Screw Down metal roof fasteners are exposed to the elements and become part of the aesthetics of your roof. Screw Down metal roofing is most commonly seen over a garage, barn, shed, camp, and is quickly becoming a strong option for homes as well.
Benefits of Screw Down Metal Roofing:
The Price: you can save a lot of money by opting for a new Screw Down metal roof while other materials can be more expensive.
Robust Colors: if you're looking for an aesthetic upgrade as well as a new roof, there are plenty of eye-catching Screw Down metal roof colors to choose from.
Saving Time: Screw Down metal roofs are less complex than their counterparts, which speeds up installation time considerably.
Challenges of Screw Down Metal Roofing:
Weather & Age:

with exposed fasteners, Screw Down metal roofs are more susceptible to weather related issues. You can still get several years out of this roofing type, however age related maintenance is a reality.

Heat Expansion:

as these metal panels are screwed directly into the roofing frame, little room is left for the panels to naturally expand and contract during hot and cold days.

Maintenance:

due to the harsh extremes that Maine weather brings throughout the year, Screw Down metal roofs will require more maintenance long term to make sure your building is protected and leaks are minimized.
We hope this article brings you some new knowledge when it comes to deciding on what type of metal roof is best for you in Maine. At the end of the day, your new roof is a big investment, and we want to make sure you have all the information you need to make the right decision for you and your family. If you have questions, or want to have Home Roofing Solutions take a look at your new roof needs, schedule a free at home estimate and consultation with one of our Roofing Advisors, and we'll help decide on the right metal roofing option for you.
Call us today at 207-269-4663 and schedule your FREE new roof estimate & consultation with one of our Roofing Advisors or fill out our form here. You may also email us at info@homeroofingsolutions.com