Earlier this month, we posted about the rise in Metal Roofing jobs here in Maine. We recently conducted a free roof inspection for a local customer in Dover-Foxcroft, Maine. Following the inspection, it was determined that the best route for this project was Metal Roofing!
This project was unique as it goes to show Home Roofing Solutions can find a solution for any size home! Check out the before and after photos of this Metal Roof!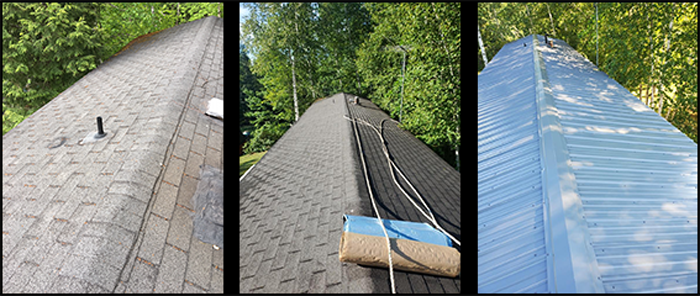 What an upgrade. It was obvious from a visual inspection that it had been years since this Asphalt Single Roof was installed. There were some minor roof repairs throughout the roof, and it was time for a replacement before something really went wrong with this roof.
Home Roofing Solutions determined that Everlast II Screw Down Metal Roofing was the best solution for this roof. By offering a Metal Roofing solution, this home in Dover-Foxcroft, Maine is now better protected from harsh weather and future problems! As always, this roof was backed by our 10 year - Solution Guarantee! The customer also took advantage of the great financing options we have at Home Roofing Solutions. They were able to secure a low monthly payment of just $75 a month for this brand new roof!
It was our pleasure to help this customer in Dover-Foxcroft, Maine with her new Metal Roof. If you'd like to meet with one of our Roofing Advisors concerning your roofing needs, schedule a FREE roofing inspection today with Home Roofing Solutions!