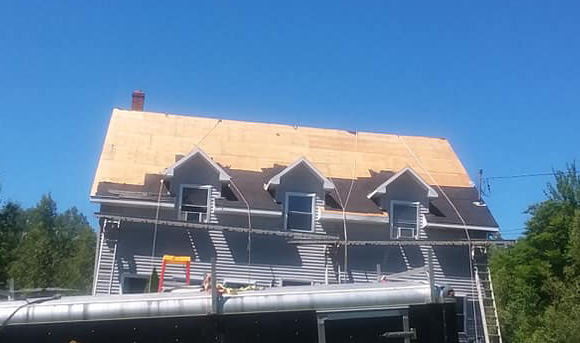 When it's time for a new roof over your home, garage or structure on your property, there's no shortage of choices to make…
Asphalt shingle or metal roofing?

How do I pick from all of these colors?

Should I work with a roofer or a roofing company?
There are plenty of businesses you could work with for your new roof, and frankly we are glad you landed on our website for Home Roofing Solutions. Why? Because we're not just a business that does roofing jobs. Home Roofing Solutions is a roofing company!
Sounds pretty basic right? There are actually a lot of things we do as a professional roofing company that make us unique in the Bangor area and all of Maine, and we want to share what we think you'll enjoy most about working with us. Here are just a few reasons why hiring a local roofing company like Home Roofing Solutions is the right decision for anyone looking to invest in a new roof.
Response – maybe you've experienced roof damage, or it's time to replace your old roof. When you call, email, or contact Home Roofing Solutions…we respond! Our roofing company is built out with multiple points of contact, from our administrative offices to our Roofing Advisors. If there is something you need, from a general roofing question, or scheduling a free roof inspection, just give us a call or contact us here on our website, and a real, local person will speak with you or get back to you shortly.
Process – as a roofing company, we know professionalism goes a long way with our homeowners. When we say we are going to show up, we'll show up, on time. Our Roofing Advisors at Home Roofing Solutions are thorough, careful, and courteous when it comes to visiting your home, and recommending the right roofing solutions to give you a roof that will protect your home for decades to come.
Products – we have a lot of them, with endless colors to match any home! From Certainteed and IKO, to Everseam and American Building Components, we'll always recommend the roofing product we feel is right for your home. We'll help you determine whether Asphalt Shingle or Metal Roofing is the right choice, and we'll never push a product on you that you don't need. We also offer some of the best product warranties in the business - just ask us! We can also install Seamless Gutters on your home, plus we offer attic insulation services and roof ventilation.
Affordability – we believe everyone, and we mean everyone, should be able to afford a new roof in Maine! Being a professional roofing company has allowed us to build out great financing options, including monthly payments as low as $99 a month! And, depending on the level of service you hire us for, we include our industry leading Solution Guarantee – a 10 year guarantee on your new roof!
Pride – we love what we do as a roofing company, helping homeowners in Maine with custom roof solutions. From the professional vehicle wraps on our fleet of roofing vehicles, to the care and detail our crews put into every roof installation, we take pride in what we do, and we hope to have the opportunity to show you what Home Roofing Solutions is all about.
Schedule your free 20 point roof inspection with us – Home Roofing Solutions – Maine's Professional Roof Company!